Calgary cabinet painters | The steps and processes involved in reinvigorating your home's kitchen cabinets with the help of the local and friendly team at Neighbourhood Painters.
When the professionals at Neighbourhood Painters arrive on site of a new Calgary cabinet painting project. Andy, the owner of the company will be there to assist and educate you about the entire process of a Calgary cabinet painter.
Upon the teams' arrival at your home, photos will be taken of your Calgary kitchen cabinets in their existing state. Once all of the important items in your home that you do not wish to be painted are covered, then a portable exhaust fan is brought in to help evacuate paint fumes.
The team will then begin the creative aspect of your project by developing a drawing plan of your Calgary kitchen cabinets and drawers. Your cabinet doors and drawers will then be labeled and taken back to the shop for some expert care and finishing.
We then make sure to protect your floors with floor protection, mask off all appliances, the backsplash, walls and ceiling.
When Calgary Kitchen painting for a client it is imperative that the team creates a barrier with plastic to close off the entire kitchen. Otherwise dust from sanding could create a big mess in places that nobody wants it to be. The professionals at Neighbourhood Painters know just how important this step is to homeowners.
Once all cabinet openings are thoroughly masked off, degreaser will be used to clean your cabinets and remove any unwanted grease, dirt and contamination. Quality is number one with Neighbourhood Painters. There are no shortcuts on the preparation process that will ultimately lead to the high quality outcomes that the company has built a reputation on.
When your cabinets are all sanded down with a power sander, by the hands of an expert craftsman, any dust left over from the sanding will be cleaned off of your cabinets in preparation for the first coat of primer. Once the primer dries, any imperfections will be swiftly eliminated by the application of red glazing.
Glazing is a technique used to fix any imperfections in your cabinets for a rather seamless transition and fluid look that absolutely shines. Gaps in your cabinets are also something the team keeps a keen eye out for, assessing as they work. Caulking and sealing any unwanted spaces not always seen by the untrained eye will make a world of a difference.
CLEANING INVOLVED WITH CALGARY PROFESSIONAL PAINTING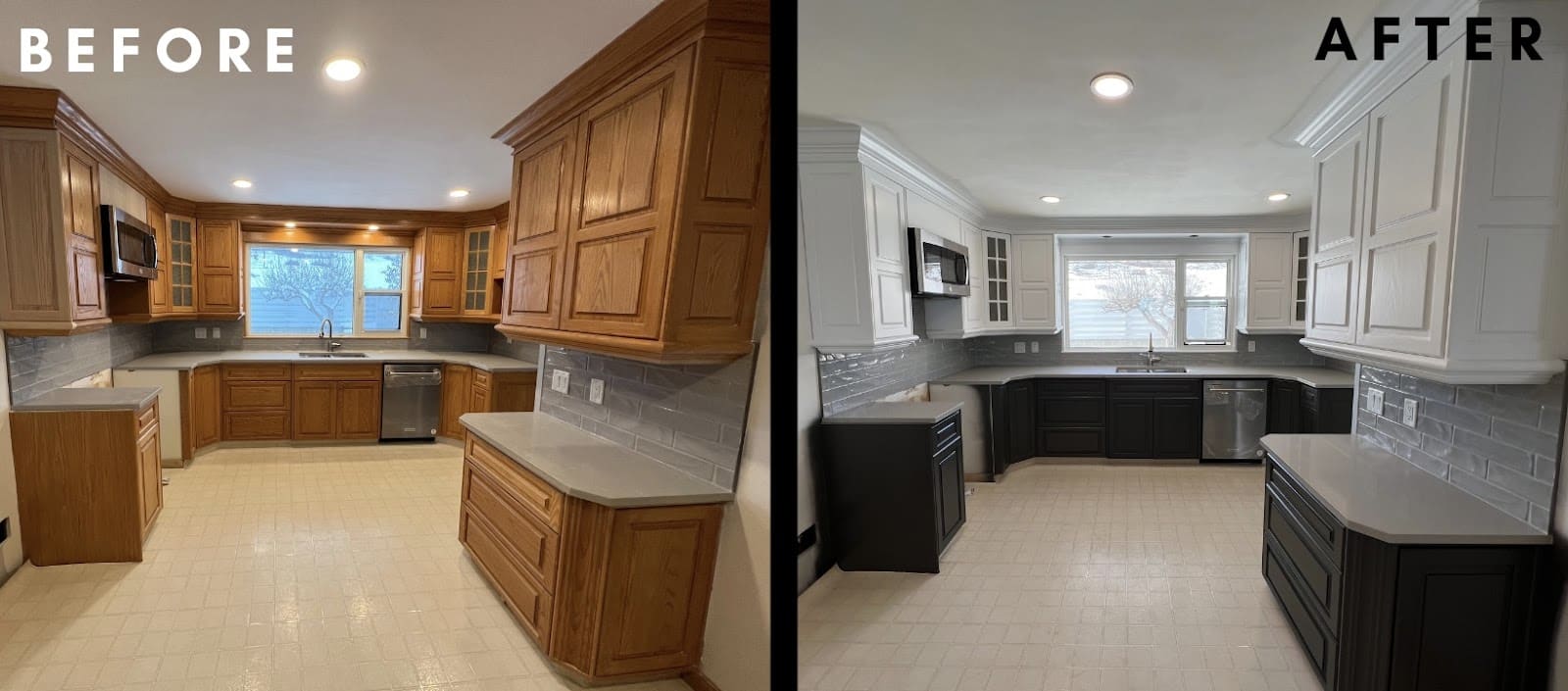 Many aren't aware of the standard of cleaning that is required when you hire a Calgary professional painting company that cares about your living space. Neighbourhood Painters will go through stages of vacuuming and dusting to ensure that your kitchen and cabinets are in the best condition possible during all stages of the job.
Moreover, the amount of cleaning that has to be done is directly related to the amount of sanding, priming, and reglazing of your cabinets. The company aims for perfection and has strict high standards. If any imperfections are spotted you can rest assured that Neighbourhood Painters will correct the situation.
THE FINAL INSPECTION
When the second coat of finish is applied, and has had time to dry, the final inspection is commenced. The team approach is to ensure perfection and customer satisfaction.
Ensuring a job well done means checking in with the customer to make sure they are happy and 100% satisfied with the look of their new cabinets.
Next comes the removal of masking tape, floor protection and a thorough cleanup of the work area. Now, your cabinets will have the room they need to shine. But not before a photo shoot of the finished project is taken by the proud team at the Best Painting Company In Calgary, Neighbourhood Painters.
Here are some examples of BEFORE & AFTER completed kitchen cabinet jobs done by Neighbourhood Painters.